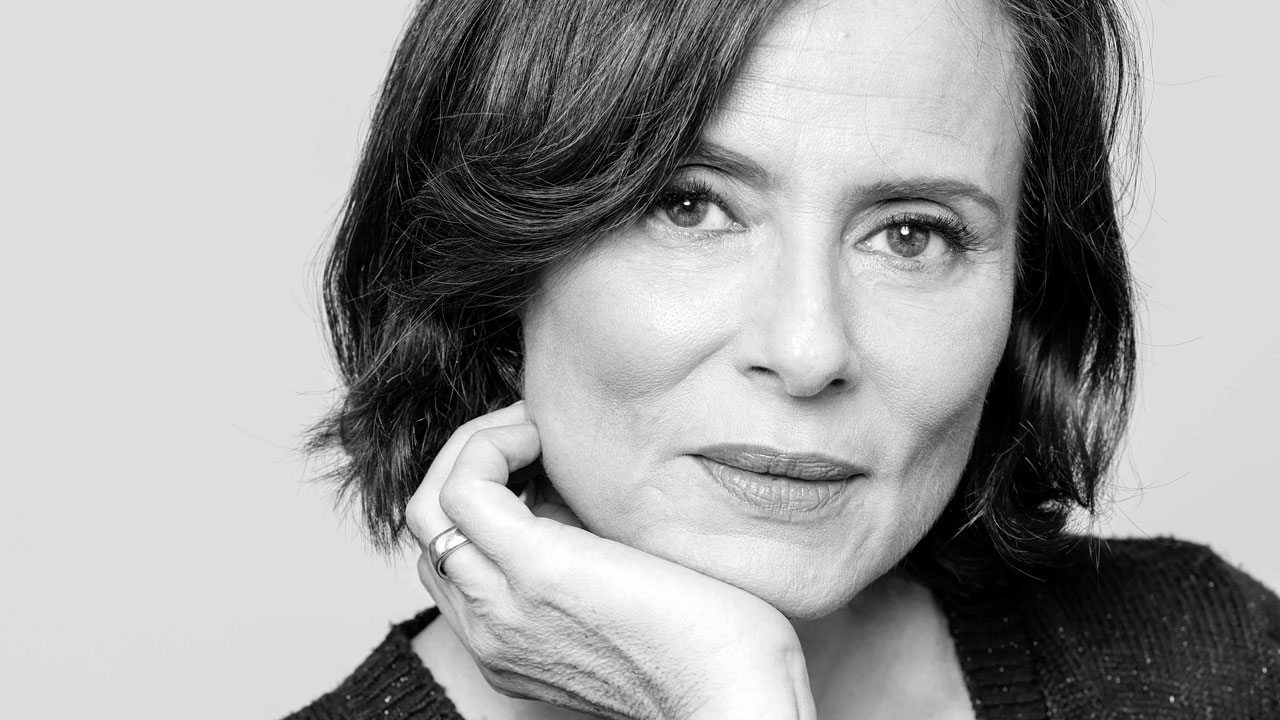 AITANA SÁNCHEZ-GIJÓN
LUIS BUÑUEL AWARD
AITANA SÁNCHEZ-GIJÓN
SHORT FILM SCREENINGS
TUESDAY 13 JUNE - 22H - OLYMPIA THEATRE
Presentation of the Luis Buñuel Award to AITANA SÁNCHEZ-GIJÓN.
Screening of short films starring Aitana Sánchez-Gijón (VOE):
EL POZO, Héctor Domínguez Viguera. Spain. 2015. 30′
ESPINAS, Iván Sáinz-Pardo. Spain. 2021. 15′
VOLCANICA, Alberto Velasco. Spain. 2018. 12′
DISCO INFERNO, Alice Waddington. Spain. 2015. 12,07′
RULETA, Roberto Santiago. Spain. 1999. 12′
EL POZO
EL POZO
THE WELL
Spain. 2015. 30'. Fiction
Director: Héctor Domínguez Viguera. Script: Héctor Domínguez Viguera, Gonzalo Recio. Production: Zerkalo Films. Executive Producer: Andrés Díaz. Photography: Raúl Torres. Editing: Marcos Sánchez. Original Music: Marcos Sánchez. Sound: Marcos Sánchez. Cast: Aitana Sánchez-Gijón, Clara Pampyn, Samuel Viyuela, Alfonso Delgado
A long civil war. A forest border. Two sisters live alone and memories haunt every corner of their family home. They live hidden and isolated but alive. A young wounded soldier escapes the horrors of the war and gets sister's home. A veteran solider left to fight, nobody knows his whereabouts, but his memory lives on.
HÉCTOR DOMÍNGUEZ VIGUERA
Ourense (Spain), 1984. He has a degree in Film Directing and Screenwriting from the TAI Arts and Master.LAV schools in Madrid. After his studies he shot two short films, Ella y el Espejo and El pozo, with Aitana Sánchez-Gijón as the main character.
In 2020 he premiered the feature documentary Tierra de leche y miel, winner of the Best National Documentary Award at Seminci (Valladolid). He is currently preparing his new feature film, Las Brujas de O Mato which he will co-direct with Brazilian director Monica Demes.
ESPINAS
ESPINAS
FISH BONES
Spain. 2021. 15'. Fiction
Director: Iván Sáinz-Pardo. Script: Iván Sáinz-Pardo, Guillermo Delgado. Production: José María Calvo de Coca, Sergio Recio, Raúl Cerezo, Helion Ramalho. Photography: Torsten Lippstock. Editing: Cristina Marinero, Iván Sáinz-Pardo. Sound: Mónica González, Sergio Recio. Music: Philipp Fabian Kölmel. Cast: Aitana Sánchez-Gijón, Julieta Serrano, José Sacristán.
Carmen is 50 years old and wants to take a life that has always turned her back. But, a message on her cell phone prevents it. Her father, with whom she has not spoken for a long time, asks her to visit him due to an urgent matter. Carmen, with nothing to lose, goes and the reunion will cause an avalanche of dramatic events that will change everything.
IVÁN SÁINZ-PARDO
Madríd, 1972. Ivan holds a degree in Film and Television by the prestigious Munich Film School (HFF München). He works as director and screenwriter in film and advertising and also has worked as Consultant Content in the international image stock company Framepool. He has won more than 500 International Awards at film festivals around the world, an Academy Award (Oscar) pre-nomination, Deutscher Kurzfilmpreis nomination, GOYA 2018 prenomination and Best European Short Award at the International Fantasy Film Festival of Brussels. He is one of the two directors of the new Amazon Prime original T.V Series "The Therapy" (2023).
VOLCÁNICA
VOLCÁNICA
VOLCANIC
Spain. 2018. 12'. Fiction
Director: Alberto Velasco. Script: Alberto Velasco. Production: Apoyo Positivo, AEP. Executive Production: Apoyo Positivo. Editing: Herminio Cardiel. Photography: Samuel Rojo. Original Music: Mariano Marín, Pepa Lucas. Sound: Juan Carlos Arriba, José Ignacio Arrufat, Marcos In Dub. Cast: Aitana Sánchez-Gijón
Aitana sees how her traditional neighborhood in the center of Madrid changes to forced marches, ceasing to be a peaceful environment for her marriage and her family. Many "modernities" and people alter their reigning peace, especially Candela, her concierge, and everything she represents. He will never imagine that she, the reason for his irrational hatred, would be his exit door to the most unexpected coincidence.
ALBERTO VELASCO
Actor and filmmaker born in Valladolid. As a theatre actor he has worked in Dies Irae, No sé si… o Billy Elliot, el musical, directing some plays like Danzad malditos or Atra Bilis.
In television he has stood out in works such as Vis a Vis, Señoras del (H)ampa or Madres and in cinema, in films such as De chica en chica, La familia perfecta or Las niñas de cristal.
In addition to Volcánica, he directed El rey de las flores, winner of Best Short Film CyL at Seminci, Best New Author at FICIE and Best Short Film at Festival Vila de Noia.
DISCO INFERNO
DISCO INFERNO
Spain. 2015. 12'. Fiction
Director: Alice Waddington. Script: Alice Waddington. Production: Alice Waddington, Yadira Ávalos. Editing: Miguel A. Trudu. Photography: Antonio J García. Original music: Aaron Rux. Sound: Roberto Fernández. FX: Francisco Porras, Twin Pines. Cast: Ana Rujas, Aitana Sánchez-Gijón, Olivia Baglivi.
A weary hell minion is on a mission to rescue her boss. But the Devil is not willing to return to her daily routine…
ALICE WADDINGTON
Bilbao (Spain), 1990. Studies at the Public Basque University, at 16 assists the DOP Kike López (Sótano, 2008; Ander, 2009). When 18, she turns to photography and fashion film directing (Harper's Bazaar, Neo2, Pearls for the Swine). Being 20 and for three years, she works as an advertising creative, production assistant and editor at Leo Burnett Iberia and Social Noise. Her first short, Disco Inferno, wins prizes at Sitges, FantasticFest or Slamdance. In 2019 premieres Paradise Hills, her first feature-lenght film at the Sundance Festival.
RULETA
RULETA
ROULETTE
Spain. 1999. 11'. Fiction
Director: Roberto Santiago. Script: Jesús Olmo, Roberto Santiago. Producer: La Mirada Producciones. Executive Producer: Ana Sánchez-Gijón. Editing: Lola Pueyo. Photography: Juan Antonio Castaño (AEC). Original music: Christian Johansen. Sound: Christian Johansen. Cast: Aitana Sánchez-Gijón, Mirtha Ibarra, Loles León, Blanca Rodríguez, Mapi Sagaseta
Five housewives usually get together to drink coffee, while they talk about mundane matters such as the tabloids or the supermarket sales. At the same time, they also play Russian roulette… A black comedy full of bad temper and extreme situations, with characters who suffer even though it doesn't seem like it, and others who suffer and also do.
ROBERTO SANTIAGO
Madrid (Spain), 1968. He works as a scriptwriter and dialogue writer on Televisión Española, in humorous and musical programs. He directs spots for various national and international firms, such as Toyota, La Caja de Canarias, or Home English. In 1999 he directed the short film Roulette, which premiered in the Official Section of the Cannes Film Festival, and which won more than 20 awards at festivals around the world. In 2001 he premiered his first feature film as director and screenwriter, Happy Men, starring Sergi López and Aitana Sánchez-Gijón.
COMPRAR ENTRADA